Combat Fishing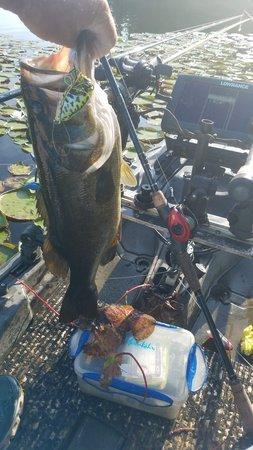 Kayaks provide an opportunity to sneak up on fish that motor boats can't always provide. Because of that advantage, kayak anglers can often access the thickest of cover, including grass beds and mats, lily pad fields, and shallow wood and brush, regardless of how deep the water is. However, getting to those isolated fish is only part of the battle. Of course, you have to get them to bite, and then, you have to rely on your gear to horse them out of heavy cover, which can be extremely difficult when you are low to the water in a boat that is only three feet wide. In situations like these, selecting the ideal rod and reel is crucial, and kayakers must rely on every trick in the book to get big bass in the net. There is no substitute for experience when it comes to this type of fishing, and in this article, three of the best in the business share their tips for excelling in three specific types of heavy cover.
At 28, professional bass angler Jordan Lee has already won two Bassmaster Classics. Growing up in Cullman, AL, a short drive from Guntersville Lake, Lee has been fishing mats and heavy grass his whole life, but as he's adjusted to kayak fishing, he's learning some new tricks for fishing the thick stuff. In a kayak, he can slowly paddle through mats without disrupting the fish the way a trolling motor and bass boat would. "In some areas I would only get one or two bites [fishing from a bass boat], but I knew there were more fish there. I would go back in my kayak and catch three times as many fish", says Lee. To find these areas, it takes a lot of practice and attention to detail. It is impossible to fish everything, so Lee focuses on two major things – bluegill and mats that are hollow underneath. He will slowly drift into an area and just listen before even making a cast. Often, he will hear bluegills feeding at and just below the surface. If the bluegills are active, the bass will be close by, and those baitfish provide a perfect situation to throw a frog on top of the mats. Areas with vegetation that is thick at the surface but "hollow" under the water allow bass to easily spot his baits and can be efficiently fished with both frogs and flipping baits.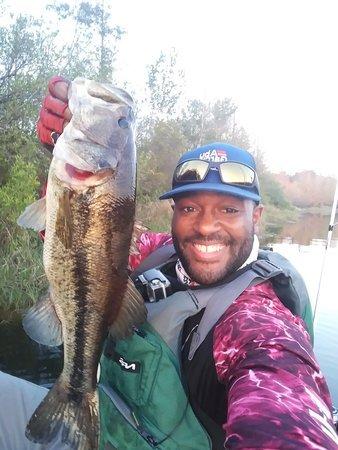 He throws a frog on a 7'3" heavy power Fantasista Premier with a 7.3:1 Revo STX with 50-65 lb braid. This setup allows Lee to cover a lot of water by making long casts and has plenty of power to rip bass from the thick stuff. When he slows down to focus on smaller areas, he will grab his 7'11" heavy Villain flipping stick paired with a Revo AL-F 8:1 reel. This combo provides the necessary accuracy when flipping as well as leverage to force fish to the surface and into the kayak. He notes that as kayak anglers with limited space, you really only need a couple rods to fish all day in heavy mats, just make sure they are long enough to get good hook sets but short enough to effectively wield from a kayak.
In Mississippi, Abu Garcia pro and Jackson Kayak team member John Deshauteurs can be found chasing fish throughout fresh and salt water, but for him, there aren't many things as fun as targeting largemouths in heavy wood cover. Flipping and pitching are among John's favorite techniques, and he uses his experience and instinct to know what types of wood to look for. "I pride myself in skipping baits back to spots where other guys can't reach, says Deshauteurs. He likes to find isolated wood, which often holds bigger fish, and will target trees, bushes, and standing timber that provide shade, which is key in the hot summer months. Skipping baits under overhangs that create shade is often a never-fail strategy, but be prepared for a fight to get the fish to the kayak.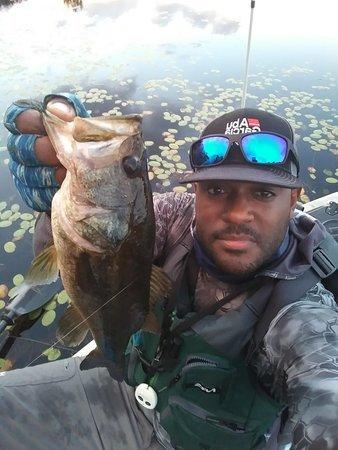 In these situations, having the optimal gear is key. His favorite rod for this technique is the 7'2" medium heavy Ike Power Series rod from Abu Garcia, which is perfect for fishing jigs and Texas-rigged plastics. He pairs the rod with a Revo Beast in a 5.8:1 or 7.3:1 that he calls the "eye crosser". Opting for power over speed, the Beast allows him to crank the drag down and set the hook hard, which is a must when fishing heavy cover. The reel also offers 30 lbs of max drag, and he uses every ounce of it. Deshauteurs generally selects jigs or plastics in natural colors and tries to mimic the local crayfish, which can vary in color based on the body of water. He stresses that patience is a major key when fishing wood cover. "Make sure you are getting good bottom contact", he urges. Otherwise, the bass often won't bite. Additionally, Deshauteurs advises kayak anglers to get a boat that is stable enough to easily stand and fish from. Standing and balancing take practice, but they provide a huge advantage when flipping and pitching and ripping fish from heavy cover. He uses his PowerPole to aid with stability and his paddle to make small adjustments, preferring to leave his pedal drive at home when he grabs that Ike Series flipping stick.
Wilderness Systems pro Brad Case fishes Guntersville, Toledo Bend, Eufaula, and numerous other bodies of water all around the southeast. Known as the "frog king" in the kayak fishing community, there is nothing Case enjoys more than throwing a hollow-body frog. "I love finding bass, good bass, in the heavy cover that bass boats cannot get to", says Case. He generally starts by searching for pad fields with relatively clear water and plenty of bait fish. Then, he looks for smaller areas where bass are likely to hide and begins throwing a frog and soft plastic jerkbait, like the Berkley Powerbait Jerk Shad, to cover water at a fast yet methodical pace. Case has tried numerous rods and reels to find the one with the best strike to hook-up ratio, and for him, nothing is better than the 7'9" heavy Fenwick Aetos, which has an extra fast action. This combination of power and action is crucial for getting a good hook set, especially in areas with lily pads. The other critical part of his gear is the Revo Rocket in a 10.1:1 speed. The high speed allows him to rapidly take up line after setting the hook and keeps the bass from getting deep into the pads, which often leads to lost fish. He spools the reel with 50 to 65 lb braid.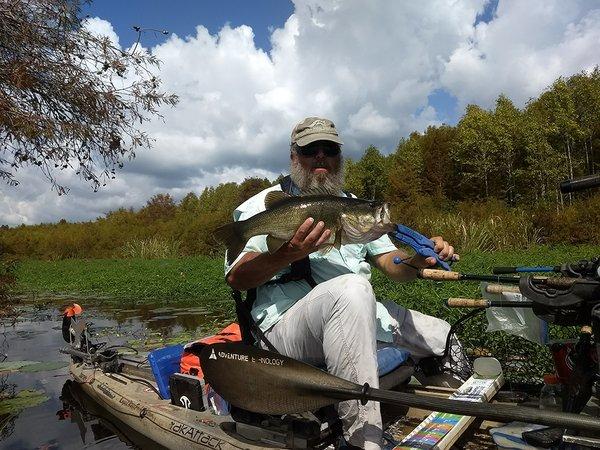 Case keeps an open mind when it comes to fishing pad fields, especially when it comes to depth. "There is nowhere a bass can't be or get to. Even in four inches of water, you never know what you might catch", he says. That is why he spends more time in his kayak than he ever did in bass boats, often finding areas where it seems like the bass have never before seen a bait. In fact, he often considers a strategy that is rarely discussed – the fact that bass instinctively keep nature in check. Therefore, they will eat anything that doesn't look right, whether it is dying, the wrong color, or simply in the right place at the wrong time. These factors make frog fishing in lily pad fields the perfect approach for big fish.
Learn the best strategies for hooking and landing smallmouths from a kayak in any small flow
LEARN MORE