Hurricane Lows, Abu High Times
A story of recovered family heirlooms
By: Steven Murphy – San Antonio, TX
STEVE MURPHY WITH HIS FATHER'S REELS
In early September, hurricane Ike was entering the Gulf of Mexico and looking like it may be headed for the upper Texas coast. My father had lived on the Bolivar Peninsula for more than 20 years, and had frequently discussed a potential hurricane hitting his home. His home was in the direct path of this massive hurricane.
After being diagnosed with Alzheimer's disease a few years earlier, he had not been in a stable frame of mind and had increasingly worried about everything. We believe that the hurricane heading for his home, and his state of mind, was too much for him to handle. On September 9, a couple of days before the hurricane hit land, he suffered a heart attack which took his life.
The hurricane destroyed over 95% of all homes on the peninsula, with my father's house being completely destroyed. Months after the devastation took place and travel to the area was allowed by local officials, my two older brothers visited the site of his home, in an attempt to recover anything that might have remained. A few things were recovered, but most everything was swept away in the 17 ft. tidal flood that swept across his home site.
WHERE THE HOUSE WAS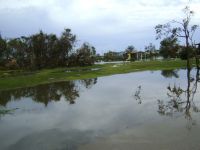 During a recent fishing trip in June 2012, one of my older brothers gave me a box of Abu Garcia reels my father had owned, and explained that they had been recovered from the area where his house had been. The box had 7 reels in it and which he had kept since finding them. My brother was unsure what to do with them, and had decided they were not fit to use due to their condition. In the box were 4 6600 C4 reels, that my father had purchased for me, and my three brothers, and had intentions of giving them to us one day.
Their condition was obviously bad, and looked to be worthless, except having sentimental value. Handles were bent, covers were dented, and they were completely covered with mud and stains. At first glance, I had decided they were useless and advised my brother that we just should throw them away. After giving it a second thought, I decided to take them home with me. Maybe, just maybe, one might be O.K. if cleaned up. I have used Garcia reels for at least fifty years, and just couldn't throw these away. Maybe a little sentimental since they were my dad's.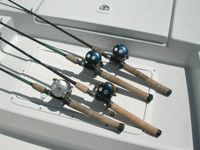 The following weekend, I started the disassembly of the first Blue 6600 C4. Of the 4 of these, this one appeared to be in the best condition. Once I took the covers off, I found the inside was completely packed with silt. It was completely full. I couldn't imagine how so much mud had penetrated. These reels must have sat under water, in silt, for days for it to have done that. The first one took a couple of hours to clean. After cleaning the first one, I reassembled it. It seemed to work fine as if nothing had happened to it. I then took each of the others apart, one by one, and systematically cleaned, lubricated, and reassembled each. There is still some cosmetic damage, a few small dents, and a few scratches.
I have completely cleaned 4 of the reels. Three 6600 C4's and one silver one with the model number gone. I filled them with line and used them this past weekend at a local lake. All 4 are working fine. Actually, they work great, as if they were only a couple of years old and had been in normal use. The other three ABU reels were damaged beyond my ability to repair them.
The seats that attach the reel to the rods are gone on two of them, the handles are badly twisted, and parts are missing. The last one is clean and lubricated but will not turn the reel.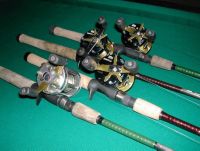 I am truly amazed at how well these reels survived as well as they did, and I'm still able to use them. I plan on giving my brothers their reels, and keeping one for myself. I find it ironic that of the 7 in the box, 4 survived and in great condition, one for each brother. As I mentioned, I have been using Abu Garcia reels for over 50 years. My father had them when we were growing up and we used them on our frequent fishing trips to a local lake, or the Gulf Coast. I've been buying them since then and will continue to be a loyal customer. In my opinion, and with considerable proof, the quality of the parts and the engineering that goes into each reel is beyond compare. Abu Garcia is the best at any price, and these are priceless.
(After reading this story we serviced these reels through our factory service center to ensure a lifetime of continued performance)