Lucas Earns First BASS Victory on Sacramento River
Abu Garcia pro utilizes quickness of the Revo Rocket to bag his fish
Justin Lucas has had many milestones over the past few years. He became a B.A.S.S. Elite series pro, fished in his first Bassmaster Classic and now has won his first Elite series event. On Sunday, the young pro claimed his first B.A.S.S. title on his home waters of the Sacramento River. The famed river system gave up a four-day event 82 pounds, 14 ounces and a nice $100,000 check for the Abu Garcia pro.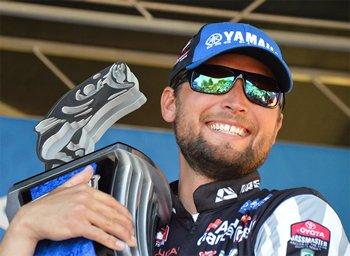 "This one will be hard to top," said Lucas. "To win in front of my home crowd means everything to me. I really didn't have an idea that I had the win until everyone had weighed in and then it started to slowing sink in that I had this one."
Lucas' main arsenal during the tournament was the Abu Garcia Revo Rocket and seven-foot, six-inch Veracity with a heavy action. The quickness of the line take up with the Revo Rocket helped Lucas boat fish that normally would have dropped the bait.
"I honestly don't think I would have won this event without the Revo Rocket," said Lucas. "Most the fish out here would pick up the bait and run with it so quick that if you didn't have a blazing-fast reel the fish would drop the bait before you could set the hook. Most anglers don't understand the need for such a fast reel, but this event should be enough to convince the need for a Rocket."
Lucas has had very strong finishes in the first three events and stands in second place in the Angler of the Year standings.
Next up for the Elite Series event is May 7 – May 10 on the Lake Havasu in Lake Havasu City, Arizona.