Tips For Catching Ice Fishing's Most Popular Fish Species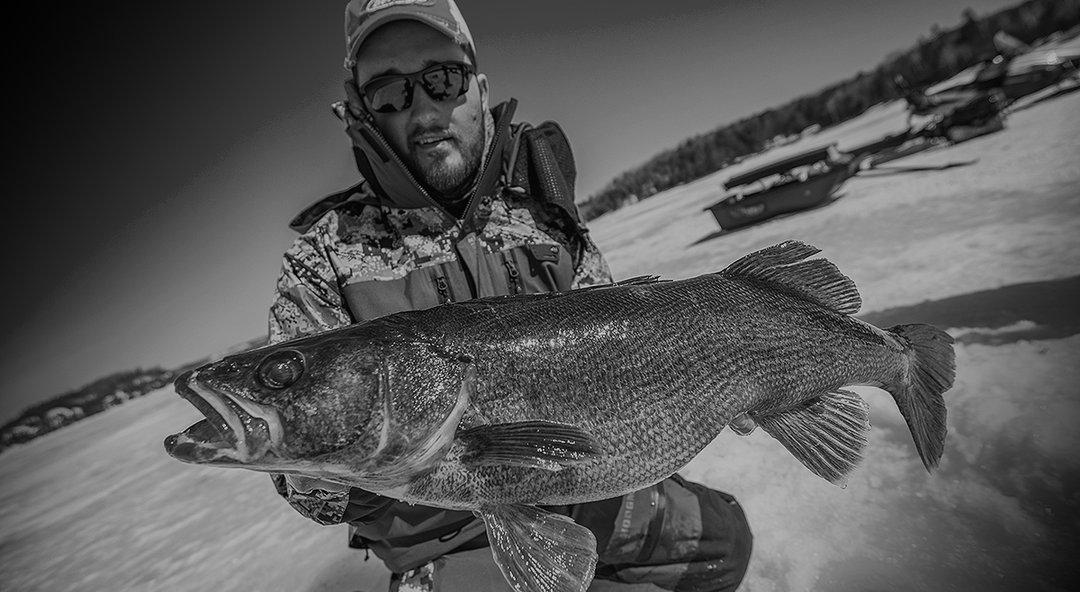 If you are new to ice fishing and looking for a few tips on how to catch your favorite species through the ice, we are here for you!
Bluegills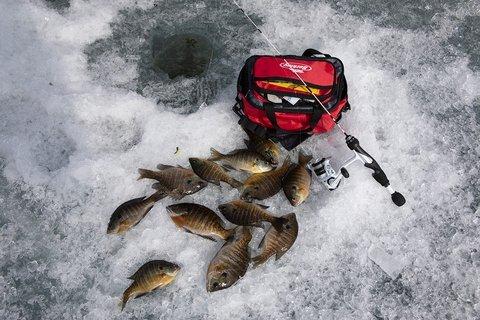 Bluegills are both easy to find and easy to catch, most days. Look for them around green vegetation, in depths ranging from 4 to 25 feet on most waters. Water clarity is important...fish are usually shallow in turbid water and deeper in clear.
A good sonar will help you find fish. Inexpensive flasher models with narrow beam transducers show both bait and fish ; new sonar models allow you to scan down and sideways to locate fish that are 100 feet or more away.
Small ice jigs in the 1/64 to 1/32-ounce size are ideal. Tip them with live bait like wax worms or larvae, or soft baits like Berkley Gulp!® or Berkley PowerBait® . These shapes mimic common bluegill forage like insect larvae, fish fry, and more.
Fish these baits on light monofilament or fluorocarbon lines in the 2-to 4-pound test and use a small float or spring bobber to detect bites.
Rods like those in our popular Abu Garcia® Veritas® Ice series are ideal for targeting bluegills. Go with an Ultra-Light or Medium-Light rod running 25 to 29 inches in length. Spinning reels like the Abu Garcia ICE MAX pair nicely with the Veritas rod.
Bass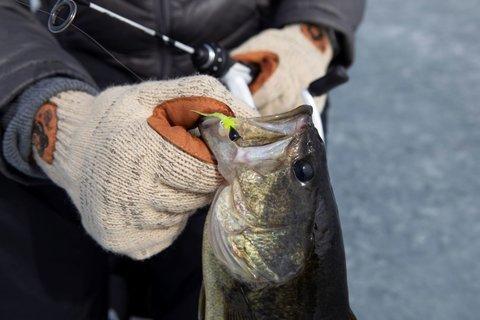 It surprises some anglers to learn that large mouth bass can be caught consistently through the ice. At times, the fishing can be excellent, especially during periods of warmer weather.
Look for bass in the same places you find them in late fall. We really like vegetated flats that drop into the main lake basin. Look for those healthy stands of green vegetation like cabbage in water between 4 and 25 feet deep and you'll likely find bass.
Some of the best winter bass baits are ones summer bass typically ignore...tiny ice jigs stipped with soft plastics or larvae like waxworms. We like jigs that sit horizontal when fished---they tend to hook bass in the top of the mouth where they are more likely to stay on.
Bass will usually approach jigs slowly in winter, study them for an agonizingly long time, then suddenly suck them in. To pass inspection, run lighter lines, like 3-or 4-pound Berkley Trilene® 100% Fluorocarbon Ice™, and twitch the bait to make it appear alive. When the fish hits, lift gently to set the hook, using a soft-tipped rod paired with a small spinning reel featuring a good drag (like the Abu Garcia Silver Max) to protect the line.
Crappie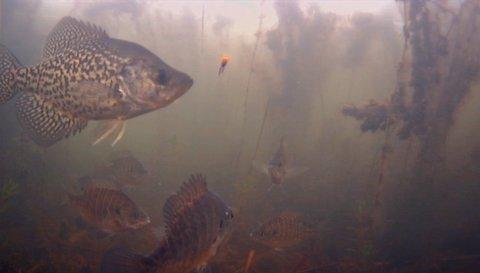 Crappies just may be the perfect winter fish. They can be found shallow or deep, caught on a variety of baits, and nothing tastes better than fresh crappie fillets dipped in your favorite batter and fried golden brown!?
A good sonar and auger will make your search for winter crappie easier. Drill multiple holes, then look for schools along the deep weedline. At times, they will be found with bluegills and the occasional bass. Sonar with side-viewing capabilities will make your search easier.?
Crappie also suspend 5 to 20 feet off bottom over deep holes. In many natural lakes, the key depths are 35-50 feet. School sizes can be large, so returning to areas that hold fish is smart, but realize fish often roam these off-shore areas, so you made need to find them again before setting up to fish.
Three baits are deadly on winter crappie. Our favorites are fishing small spoons like 1/12-ounce Johnson™ Splinter™ in gold or chart reuse pearl. The bait's treble hook offers superb hook-up ratios.
Tip the spoon with a minnow head (real or Gulp!), a soft bait like a Gulp! Berkley Gulp! Alive® or live bait like maggots or waxworms. Jig aggressively to bring fish to the hole, then switch to small hops and twitches to make it easy for the fish to grab the bait.
Small ice flies are also deadly. We recommend horizontal tungsten jigs in 1/64 to 1/16 ounce tipped with a soft plastic (a favorite here is the PowerBait Ice Mayfly) or live larvae. Lighter jigs are the better choice in shallower waters. Horizontal jigs usually hook winter crappie in the roof of their mouth for solid hook-to-land ratios.
The other winter technique is hooking a small crappie minnow with a light wire hook and fishing it below a sensitive float. Crappie usually move up to feed, so position your bait a foot or so above the fish you locate on sonar.
Live minnows are effective, but most often you'll find ice flies and small spoons will out-fish them by a wide margin.
Perch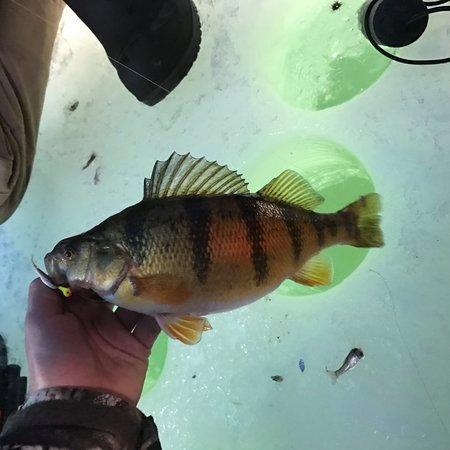 Yellow perch are a favorite target for ice anglers because they are both fun to catch and great eating.
Perch are often found in schools over hard bottom areas like gravel and rock where they are targeting small minnows, freshwater shrimp or other forage. They can also be found on mud flats where they feed on blood worms, mayfly larvae and other forage species.
We love sight-fishing perch over shallow flats. Small spoons like an 1/8-ounce Johnson Rattlin' Scout tipped with a minnow head (real or Gulp!) is tough to beat.
Bounce the bait on the bottom to attract fish, or jigs a few feet off the bottom. When a fish approaches the spoon, slow or stop your presentation to trigger a strike. We've seen hundreds of fish spooked by aggressive presentations.
On those days when fish are less active, switch to a spoon featuring a dropper chain that positions the bait/hook below the bait. A smaller tungsten jigs tipped with a soft bait like the Gulp! Ice Minnow or Gulp! Ice Minnow Head is also a great choice. Fish the bait near or on bottom.
In shallow water, light mono or fluorocarbon lines are ideal, with break strengths in the 3- to 5- pound range. In deeper water, where bite detection can be challenging, we go to a braid like 3-or 4-pound Berkley® FireLine® Ultra 8 for the mainline and top it with a 6-foot length of mono or fluoro leader.
A shorter rod is best when sight fishing as it allows you to stay over the hole. Look for options in the 20-24-inch range with a light action. For deeper water, a longer rod offers improved hooksets and other benefits. We recommend models in the 27-to 32-inch range, with a lighter action. Don't go too light when selecting an action as softer rods offer less feel that stiffer rods and you may miss light-biting fish.
Pike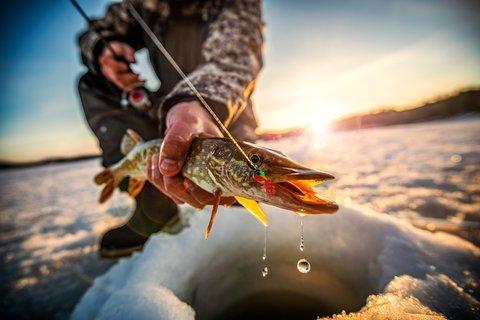 The most consistent place to find winter pike is over vegetated flats, especially those that drop into the main lake basin. Depths of 10 to 20 feet are good places to start your search. Live sucker minnows or shiners from 5 to 9 inches are great winter pike baits. Larger, aging pike often respond better to a dead bait like a ciscoe or smelt suspended below a tip-up.
Serious pike anglers today use multi-hook quick-strike rigs to reduce the odds of deep hooking trophy pike so they can be released without harm. With a quick-strike rig, anglers can set the hook almost immediately to bury the hooks in soft spots in the corners or top of the mouth.
Another great method for targeting pike is ripping rattle baits like the Sebile Flatt Shad or Berkley Warpig in ¼ to ½ ounce sizes. Cut several holes over the area to be fished, and move often.
Rattle baits not only trigger strikes, they attract fish to your tip-ups, making them a great option.
Pike, especially smaller fish, have very sharp teeth that cut easily through lines. We recommend you go with an 18-inch leader crafted from either 27-or 60-pound 7 strand uncoated wire, or a similar length of 60-pound fluorocarbon line tied directly to your bait, hook or quick-strike rig.
In heavily fished waters, pike may shy away from traditional wire leaders.
Strong line is needed when targeting pike, especially in waters with large fish. Go with 80-pound or heavier braid on your tip-ups, and 15-or 17-pound fluoro on your jigging rods.
Medium heavy ice rods in the 30-to 36-inch range are ideal for ripping rattle baits when fishing outside. Increase your reel size to a 20 or 30 to handle the heavier line used with this technique.
Walleye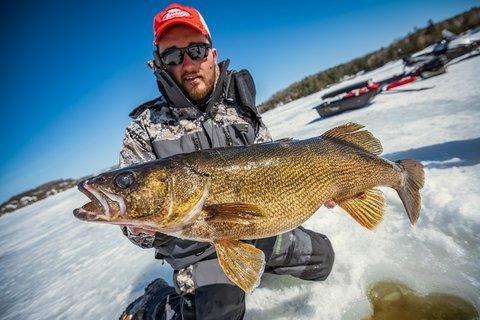 For many ice anglers, the walleye is the ultimate target. Not only are they challenging to catch, they are superb eating and grow to 12 pounds and more.
Walleye are notorious low-light feeders. Most anglers target them at dust and after dark, but there are great day-time bites on lakes with turbid or stained water. Lake of the Woods is a great example.
Walleye hold in a number of areas, even in a single lake. And while traditional walleye spots ... humps, gravel flats and steep breaks still produce fish...secondary spots are often better because they receive less pressure.
Shallow weed flats, particularly ones with a mixture of vegetation and areas of clean bottom, can be incredible at sunset. Cut holes before dusk to avoid spooking fish at prime time.
Shallow or deep, active presentations are usually best. Spoons like a ¼-ounce Johnson Splinter or Rattlin' Scout tipped with a minnow head (real or Gulp!) are superb.
We're also fan of vibrating baits like the Sebile® Vibrato and ¼-ounce Berkley® Warpig™?, and traditional ice jigs like the Johnson Johnny Darter.
Work the baits within two feet of bottom, jigging aggressively to attract fish and then slowing your presentation to trigger strikes.
In shallow waters, we recommend 6-or 8-pound monofilament or fluorocarbon line tied direct. In deeper waters (30 feet or more), we like to switch to a 6-or 8-pound braid as the main line; adding a 4-foot leader of 6-or 8-pound mono to reduce line visibility and make it easier to change baits.
A medium light rod like the 27-inch Abu Veritas is a great choice when fishing shallower waters; switch to the medium action 29-inch Veritas when fishing deeper to move more line on the hookset.
Small ice reels work fine when targeting walleyes, but we recommending upsizing the a size 20 Abu to increase arbor size to prevent line memory.