The Need for Speed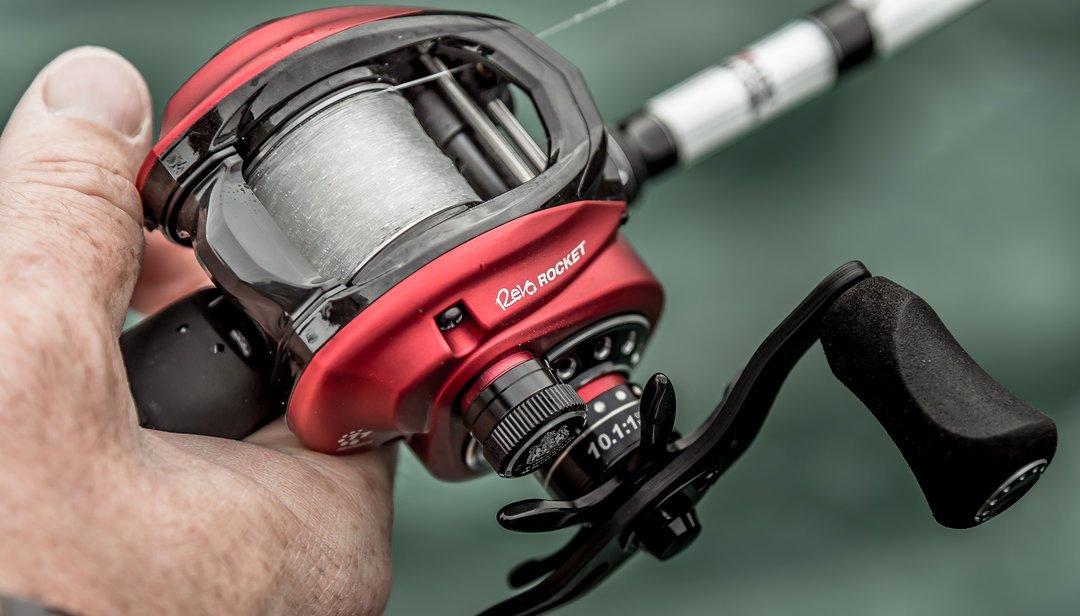 Topwater fishing and the need for speed!
Do high-speed reels have a place in topwater fishing?
Indeed they do! And an important one at that!
High-speed baitcasting reels like the category leading Abu Garcia Revo Rocket take the toil out of a long day of casting and winding, sustain the action of plopper-style lures and buzzbaits with a casual crank, and pick up slack line on a hard-charging fish with lightning quickness. They also help close the gap on you and your bait with the trolling motor moving at a brisk gallop.
High gear ratios and larger spools are the critical variables in reel speed. Fishing with a full spool is a must.
In recent years, anglers have watched the "burner" threshold for fishing reels climb from the 6:1 range to 7:1 and beyond. Several years ago, 8:1 became the high water mark, only to be surpassed at the 2018 ICAST event with the debut of the Abu Garcia Revo and its mind-blowing 10.1:1 gear ratio and 41 inches per turn (IPT) line-retrieve rate.
Taming topwater
Topwater lures comprise a diverse family. Plopper-style lures like the Berkley Choppo count on speed to deliver optimum action and draw fish to their commotion. Walk-the-dog lures like the Berkley Drift Walker, HighJacker and Cane Walker rely on a side-to-side dancing motion and minimal forward movement to prompt a strike. Popping/chugging lures like the Berkley Bullet Pop are presented with varied pop-pause cadences, often drawing strikes when the lure is hanging motionless above the predator.
Surprisingly, high-speed reels available in the Abu Garcia Revo Rocket, Revo STX and Revo SX lines offer advantages in all of the above scenarios.
Justin Lucas, a current star on the Bass Pro Tour and Major League fishing, opts for high-speed reels for nearly all his topwater fishing.
"The Rocket enables me to pick up slack line instantly when I'm fishing poppers or walking baits," says Lucas. "When I'm fishing a winding bait like the Berkley Choppo, I go from a Rocket to the Revo STX (8.1:1). It's still a high-speed reel that allows me to move the bait relatively fast – but not too fast – but also to catch up to my boat speed when I am covering water quickly."
Lucas retrieves wake baits like the Berkley Wake Bull, Surge Shad and Surge Shad Jointed at a moderate speed – not too fast, not too slow -- to maintain the hypnotic spell these V-tailing lures seem to have over bass. When he's covering water with the trolling motor humming, however, he still needs a reel that will gather line quickly. His choice for wake baits is an Abu Garcia Revo SX with a 7.3:1 gear ratio.
Topwater fishing is often a game of surprise strikes -- sudden attacks from fish when you least expect them. High-speed reels prove their worth in these emergencies, too. These forgiving tools can remedy a slack line situation in the blink of an eye or meet a charge from an aggressive bass in an instant.
Yes, indeed! To a topwater fisherman, speed matters!